JULIANA HATFIELD AND BLAKE BABIES REVIEWS
BLAKE BABIES
Rolling Stone Feb. 8th 1990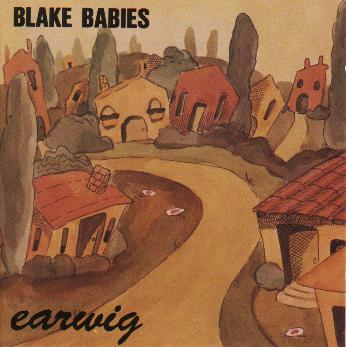 ***1/2
Displaying youthful, energetic verve and a heartning lack of pretension, the Blake Babies play it clean and simple on Earwig. They prefer streamlined oreder to the densely compressed clutter that typifies so much American rock. Guitarist John Strohm can riff, solo and play apreggios with the best of them, but he's got the added advantage of taste; he manages the neat trick of saying more with less, while singer-bassist Juliana Hatfield breathes life into the songs with sibilant, kidlike sweetness and drummer Freda Boner provides supple, Mo Trucker-style support.
Earwig's thirteen numbers range in subject matter from social issues to more personal concerns. In "Cesspool," childish incredulity ("What a nerve!") turns into a militant vow of reprisal ("I'll get my guns and both of my friends/We'll make some righteous amends/Maybe we'll start a trend") when pollution spoils a favorite beach. Many songs are about escaping a stifling relationship or courting post-adolescent independence, with Hatfield's voice wriggling free and rising upward - sometimes affectinly, sometimes awkwardly - like a young bird making its first uncertain flight.
Musically, Earwig combines folkish plaintiveness and pop locomotion. On "You Don't Give Up," Strohm moves easily from the dreamy chording of the verses to the rockier crunch of the chorus; finally, as the song rides out, he unleashes an uptempo lead on which he flexes some surprisingly muscular solo chops. Versatile without being flashy, he frames "Rain" with an industrial-strength hard-rock hook and surrounds Hatfield's cool, purring vocals in "From Here To Burma" with a striking, New Age-style guitar study.
Its blending of reach and restraint lends Earwig depth and tension, while the openess of the band's personalities provides immediate appeal and accessibility. The Blake Babies put a fresh-faced spin on alternative American pop that augurs well for the years to come.
---Parke Puterbaugh
JULIANA HATFIELD
Rolling Stone March 1995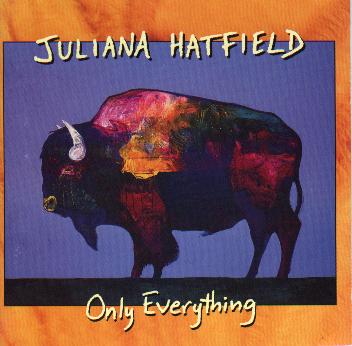 **1/2
Juliana Hatfield is a strange case. She works the territory separating adolescent tenderness and post-adolescent toughness, and her sprints between the two are part of her charm. When she;s good, she's Hello Kitty with a whip. The rape-revenge fantasy "A Dame With A Rod" (from Become What You Are, 1993) was a lethal uron doily that didn't seem at all out of place in the midst of lacy pop confections like the lovely "Spin The Bottle," a girl's breathless wish that she'll get a kiss from the cute boy on whom she's got a crush. Hatfield's got a sterling pop sense that's instinctual and tenacious. Mostly. Her wide-eyed innocence as a singer/songwriter is part of her shtick, and it's fine in small doses. But other, less becoming qualities come to the fore too often on Only Everything. Hatfield's prone to a kind of pursed-lipped prissiness that comes off as smug and superior. And sometimes she sounds too anxious to please: She's zonked and chipper at the same time, and her pleasant spaciness sometimes detracts from her conviction as a singer. "Leave me to the vultures, throw me to the wolves/I live on tomorrow in purity of soul," she sings meekly in "Live on Tomorrow," giving the most harrowing trials about as much weight as getting a little dog poop on your shoe. And yet, Only Everything is so well-made - and for the most part, sounds so darn good - that it forces you to fight everything that's annoying about Hatfield. She writes supple and sure-footed melodies, and her guitar playing has never sounded more vibrant or confident. On "Simplicity is Beautiful" her lines are rough and loose, like looping charcoal swirls on drawing paper. Her voice is disarming too, when she leaves her coy pretensions behind. On the pensive "My Darling," it's weightless but not colorless - like a scrap of chiffon. And on "O.K. O.K" she comes off wild and wooly as a go-go girl, hinting at what she could do if she would only let herself revel more in her smartly crafted songs. In order to make great pop, you've got to really roll around in it; getting a little on your shoe just isn't enough.
---Stephanie Zacharek
Mademoiselle Magazine 1995, Only Everything
***
After scoring a hit with 1993's "My Sister," Hatfield still makes the kind of friendly, innocent rock that you'd expect from a younger sibling, of, say, Natalie Merchant. Though Hatfield's girlish voice makes her sound like a perpetual high schooler, her melodies have lost some of their wispy cuteness, and she sounds more confident while bashing out her trademark fuzzy guitar solos. In the gentle "You Blues," Hatfield compares two lovers to a planet and a satelite singing, "I revolve around a bigger body." How refreshing to hear a rocker who isn't always the center of her own universe.
CMJ Magazine Feb 1995, Only Everything
No star rating for CMJ

Juliana Hatfield's third solo record, Only Everything, reveals her growing competence with a guitar; its 14 songs feature guitar as prominently as her distinctively plaintive voice, and sometimes more. For a singer, she's an okay guitarist, but her strengths lie in her lyrics and melodies, not in her playing. Her change of focus is no doubt due to her extremely sensitive nature - she's been criticized for not being very good on the guitar, as well as making the infortunate remark that women can never play guitar as well as men. In trying to prove the critics (and herself) wrong, Hatfield has diminished a little of her brilliance. That said, Only Everything is still a terrific pop record that showcases low self-esteem within super catchy melodies. The most poignant of the songs, "Live on Tomorrow," goes through a litany of the things to which the speaker has been subjected - "Dump me in the ocean/Tied to a piano" - but she refuses to give up, responding "A heartbeat says you haven't died/You gotta try to stay alive." "OK OK"'s fierce, rocking melody contradicts Hatfield's doormat lyrics, where she asserts that she "did it/but I didn't" just to settle an argument. "Congratulations" is a haunting portrayl of a person's battle with food addiction, a problem the admitted anorexic Hatfield has in real life. While Only Everything isn't all the title suggests, Hatfield's endearing, sometimes coy persona and hum-along melodies make it more than just one person's statement of loneliness. Hatfield's talent lies in writing catchy cries for help, and until that's the only everything she concentrates on, her records won't be as compelling as they could be. But Only Everything is definitely something pretty great.

---Megan McLaughlin